WELCOME! I'm glad you landed here. I hope this finds you safe, well, and vaccinated. You can avail yourself of our music and merch at the links in the navigation
My band, Stone Cupid, and I recorded East Nashville writer Kevin Gordon's "Saint on a Chain" for our 2016 album, The Cardinal. In lockdown in 2020, I decided someone should record an entire collection of the Louisiana native's songs. The result, 11 From Kevin - Songs of Kevin Gordon, will be released early 2022 on WireBird Records. Stay tuned for the release date and more news about it! Those links and free downloads will be available for my email list ( join below left ) first.
The band I had with Chris D* 30 years ago, The Divine Horsemen, released a fantastic new album, available from IN THE RED RECORDS  since August 27 2021! Watch our website and the band's facebook page for updates about this amazing news.
*(leader of The Flesh Eaters on YepRoc with whom I recorded and performed in 2019) 
Also, we've already released a live album from back in the day: DIVINE HORSEMEN LIVE 1985-1987 
You can see our videos at our YOUTUBE CHANNEL
There' a  video up on my youtube channel that I made at while safely protesting in my car last spring. I put it to a version of my song,
The Laughing Men, which you can find here on bandcamp. Watch now.
OUR ACOUSTIC ROCK ALBUM "A SAD CLOWN" came out in 2019
You can order it from bandcamp HERE.  Or directly from us HERE.
Our album The Cardinal was #70 for 2016 on Roots Music Report's Album Chart for Roots Rock!
I lost my friend Leonard Cohen on November 7, 2016. He was 82.
He lives forever in the Tower of Song. Thank you, Leonard.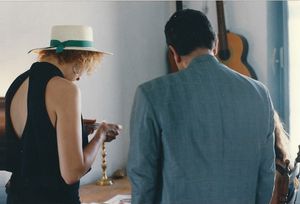 Vinyl Now Available for "The Cardinal:"  
 ORDER NOW directly from us! ON SALE FOR ONLY $15 + shipping.
Join the Email List in the lower left corner of this page! We'll keep you posted, but not every whipstitch.
Read about Julie in NO DEPRESSION
Check out our youtube channel here.  
Background Photo of Julie Christensen and Stone Cupid by Stacie Huckeba. 5 Slideshow Photos: Black Top Hat by Jeff Fasano, Watercolor photo & Treatment by Joe Wolfe-Mazeres, Cardinal image by Julie Sola, photo of Julie and Leonard Cohen and Julie on Hydra courtesy of the BBC.